GolfBioDynamics
SGPL are the proud Swiss representative of the US based Golf Biodynamics.
In essence Golf Biodynamics provides a service to the Golf Industry, by acting as expert consultants to the teaching professionals, physiotherapists and conditioning coaches.
Using the latest in 3D Biomechanics equipment, Golf Biodynamics provides expert interpretative Biomechanical reporting on body motions during the Golf Swing.
That is in real time position and orientation of parts of the body e.g. head, shoulders, arms, hips, club etc popular for the long game analysis.
The GBD System is also available for short game pitching and putting. This measurement system is completed with a capacity for biofeedback training - one that is proven to speed up the learning process.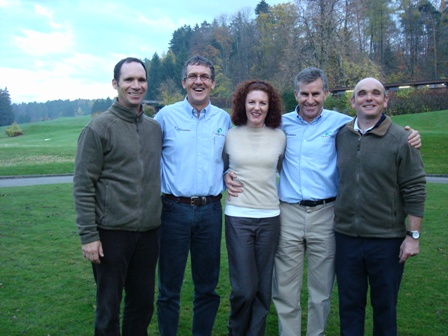 The Swiss GBD and TGA Teams - Paul, Michael, Karen, Rob and Garry, Zurich, Switzerland.
What is provided for the Golf Athlete?
An easy to understand interpretative report highlights the areas the golfer and/or the golf professional, physiotherapist and strength and conditioning coach need to address in terms of the body motion.
A biofeedback session - the first step to accelerate the learning process associated with technique change.
Physical limitations highlighted and golf specific exercises prescribed as required or referral to a physiotherapist/strength and conditioning coach depending on the level of commitment.
A copy of the 3D software and client's swing animation on CD for home viewing is also available

Who has used the Golf BioDynamics system?
The system is used around the world by:
Swiss National Team
English Golf Union
Swiss PGA
UK PGA
Australian Institute of Sport
Swiss Tour Pros
Womens Golf Australia
Danish National Team
Australian Golf Union
Scottish National Team
No 1 Academy in America
German National Team
Plus touring professionals playing on the USPGA, Australasian, Japanese and European Tours including David Howell, Camilio Villegas, Nick Faldo, Len Mattiace, Brad Faxon, Tommy Armour III, Angel Cabrera, Carlos Franco, Cristie Kerr, Brendan Pappus, Brian Bateman, Brian Gay, Tim Petrovic, James McLean, John Senden, Steve Allen, Peter O'Malley, Richard Backwell, Peter Fowler, Marcus Cain, Corinne Dibnah, Cherie Byrnes, Loraine Lambert, David Horsey, Phillip Archer, Kirsty Taylor, Simon Dyson, Rod Rampling, Danny Willett and others.

Swiss Tour Pros
André Bosert
Raphael Desousa
Tino Weiss
Damian Ulrich
Roger Furrer
Martin Rominger
Mark Chatelain

Swiss Pros
Roger Fischer
Paolo Quirici
Roman Spring
Richart Swords
Paul Cairns